Activists are targeting the companies that make ICE run.
About 60 members of ICE Out of LA faced off with a handful of Trump supporters outside Los Angeles Police Department headquarters July 23. The Immigration and Customs Enforcement (ICE) abolitionist group was there to confront County Sheriff Jim McDonnell, accused of transferring immigrants into federal custody. The Trump fans were there to troll.
"We tell McDonnell to stop siding with people who promote hate in our community," one young Latino protester shouted through a bullhorn. "He can abolish ICE here." It was everything you'd expect from a political demonstration focused squarely, if optimistically, on changing the mind of a single policymaker.
Two days later, 2,400 miles away, activists with Make the Road New York and other groups tried a different approach. They blocked Park Avenue underneath the Upper East Side roof-level penthouse of JPMorgan Chase CEO Jamie Dimon, rather than outside a government building. Their speakers blared the now-infamous cries of detained migrant children for their parents.
JPMorgan Chase holds no direct contract with ICE and doesn't handle financial services at ICE facilities, but it does enable and profit from the private-prison duopoly of Geo Group and CoreCivic, which operate most U.S. migrant detention centers. Since Donald Trump took office, JPMorgan has increased its stockholdings in Geo Group and CoreCivic 15,600 percent. The bank has also provided at least $167.5 million in debt financing to the two companies, which rely on borrowed money.
Going after ICE contractors' cash flow indicates a new direction in activist organizing since the Trump administration began its controversial family separation policy. ICE relies on private contractors to carry out its detention operations, so one way to abolish ICE might be to make its association so toxic that it loses its collaborators.
Practically every entity that squeezes a dollar from the agency or helps it round up immigrants is being exposed, targeted and swarmed by protesters.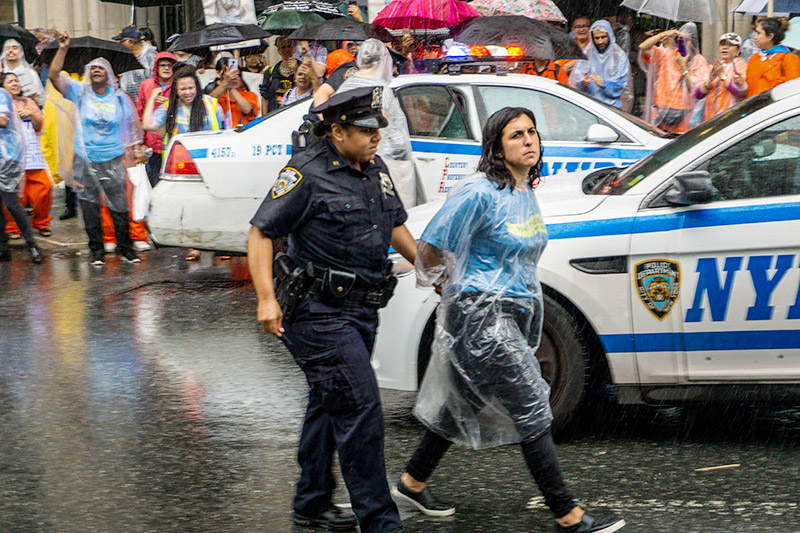 ---
Traditional immigration activists are now being joined by anti-war, feminist and climate action groups, and others. The broad coordination is possible because the U.S. immigration system bleeds into so many areas of progressive ire, from police brutality and labor abuse to the ongoing wave of privatization and financialization. "We really prioritize building intersectional coalitions," says Daniel Carrillo, executive director of ENLACE, a racial and economic justice group.
That intersectionality has become critical to left movements, with the shock of Trump's immigration policies revealing the amoral spectacle of late capitalism. We've seen anti-corporate campaigns before in America, but few on this scale, bringing together so many disparate groups— even corporate employees—demanding that companies cease profiting from human misery. The backlash against ICE just might provide a model for a politics and economics that values dignity over the balance sheet.
Read the rest of the article here.