Giselle Mendez came to get answers.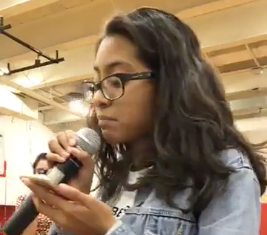 MAKE THE ROAD NEW YORK / Giselle Mendez, a high school sophomore, took on her congressman during a weekend forum.
"Myself and many students here have knocked on your constituents' doors and talked to registered voters all over Staten Island and many from the South Shore to tell our stories and talk to them about the importance of having a clean Dream Act," Mendez said in front of a crowd of about 200 people.
She referred to the push for a bill that would create a path to citizenship for so-called Dreamers ― undocumented immigrants who came to the U.S. as children ― without including provisions for a wall on the border with Mexico or other immigration matters.